Introduction

Let's Be Aware / Ujjiqsuqta promotes the responsible use of alcohol in Nunavut. It is guided by a belief in community empowerment, and sees communities as valuable resources and contributors to reducing the harm of alcohol use on individuals, families and communities.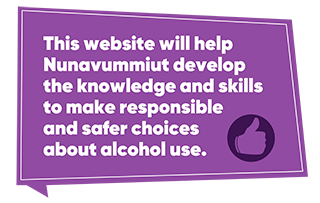 This website will help Nunavummiut develop the knowledge and skills to make responsible and safer choices about alcohol use. Information, tools and resources will be available to four key groups:
General population
Alcohol Education Committees
Helping professions
Youth and young adults
Let's Be Aware / Ujjiqsuqta was developed and implemented with the help of the departments of Finance, Health, Education and Family Services.