Social and community harm

It is sometimes thought that drinking too much alcohol only harms the individual drinker. But heavy drinking can also lead to social problems that affect everyone in the community.
Alcohol can change the way a person thinks, feels and acts. It reduces your ability to do what is right, and causes people to make poor decisions and do risky and dangerous things they would not normally do.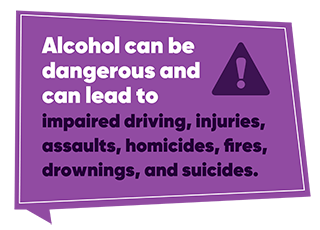 Heavy alcohol use can negatively affect relationships with family and friends, and can harm the community through increased crime and extra burden on health and community services.  Alcohol can be dangerous and can lead to impaired driving, injuries, assaults, homicides, fires, drownings, and suicides. Sometimes these result from long-term heavy drinking, and other times they happen from single drinking occasions. But drinking until drunk can greatly increase the risk of harm to oneself or to others in the community.
This section will provide information on the alcohol-related social harms that can affect everyone in the community.