Crimes and violence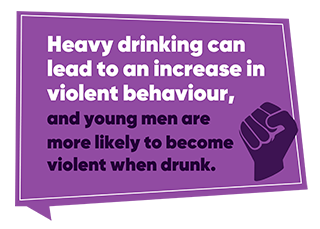 There is strong evidence that heavy alcohol use in Nunavut is linked to increased crime and violent behaviour. Heavy drinking also puts people at greater risk of being victims of violent crimes.  
RCMP officers say that 90 to 95 percent of their call-outs involve alcohol. Further, an estimated 90 to 95 per cent of people incarcerated at the Baffin Regional Correction Centre were drunk at the time of the offence, including sexual assaults and other violent and non-violent offences. Unfortunately, youth justice workers say that nearly all youth going through the youth justice system in Nunavut use alcohol and drugs. 
Effects of heavy alcohol use in the community include:
Physical violence, sexual assaults, rape
Intimate partner abuse
Child abuse and neglect
Elder abuse
Drunk driving
Women are especially at risk for experiencing violence and non-consensual sex. Heavy drinking by both men and women affects the ability to make good decisions and the ability to judge the level of danger in a given situation. This can increase women's vulnerability to aggression, violence and sexual assault.
Homicides and accidental deaths
Alcohol use can result in the death of the person drinking, but it can also put other people's lives at risk. Reports in Nunavut show that:
Twenty-three percent of all accidental deaths involve alcohol
Thirty percent of all homicides involve alcohol or drugs
Alcohol is the number one cause of boating accidents and drownings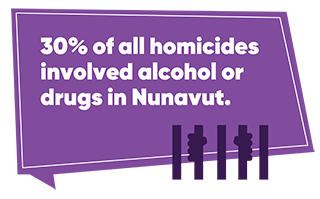 Accidental deaths are the leading cause of death for Nunavummiut under 25, and more than half of Nunavut's population is within this age range. Unfortunately, many of these deaths are completely preventable.