Suicide

There is no one single reason why some people choose to try and end their lives. But in Nunavut, there is evidence of a strong link between heavy drinking and suicide. Alcohol can bring up underlying feelings and past memories of trauma or pain. These feelings can be so powerful that they can cause anxiety, depression or shame. Reliving these memories while drinking can be a risk to personal safety, as well as to the safety of others.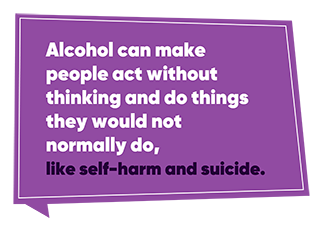 In Nunavut today, the suicide rate among Inuit youth has reached alarming numbers. In fact, the Inuit rate of death by suicide is now 11 times higher than the country as a whole, and nearly two-thirds of suicide victims are under the age of 24.
The Nunavut Suicide Prevention Strategy reports that young people are at risk of suicidal behaviour if they:
have suffered painful childhood experiences, like neglect, physical abuse or sexual abuse
are suffering from mental distress
abuse alcohol and/or drugs
According to the Inuit Health Survey, 36 percent of people surveyed said they had attempted suicide at some point in their lives. One-third of these people said they had been drinking alcohol just before making the suicide attempt.
Need help?
If you or someone you know has expressed feelings of suicide, they should go to the health centre or call the Kamatsiaqtut Help Line (1-867-979-3333) Nunavut's 24/7 suicide and crisis hotline.  
For more information on mental health issues click here.