Impact on youth
When family members drink alcohol in harmful ways, it can negatively impact the health, well-being and safety of children living in the home. Heavy alcohol use has been linked to increased verbal and/or physical violence in the home, which can result in children being removed from the home and placed in foster care.
Child welfare workers in Nunavut have reported that most children in foster care have at least one parent or caregiver with a substance abuse problem, most often involving alcohol. In fact, it is reported that up to 90 percent of child protection cases are alcohol-related.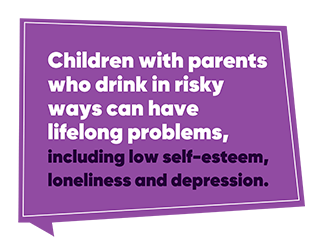 Children living in homes where there is heavy drinking are more likely to experience problems with:
low self-esteem
loneliness
guilt
feelings of helplessness
fears of abandonment
long-lasting depression
Living with a family member who has an alcohol problem is difficult for children and everyone in the family. If a person continues to drink heavily, even when faced with harmful consequences to themselves or others, this may be a sign of alcohol dependence or addiction.
If someone in the family is struggling with alcohol, finding outside support can help the family cope. Click here to find help in the community.